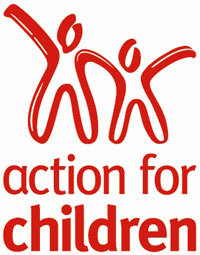 Action for Children
Action For Children is a children's charity which works directly with over 300,000 children, young people, parents and carers, run 650 services across the UK, and tackles issues such as child neglect and abuse
Through our work and through speaking out, we seek to break the cycle of deprivation. We challenge injustice and empower children to overcome the obstacles in their lives that hold them back. We tailor our work to local circumstances, in partnership with children and young people, families, communities and local organisations.

We believe all children and young people have unique potential and that they should have the support and opportunities they need to reach it. Action for Children helps more than 300,000 children, young people, parents and carers through 650 projects across the UK. We also promote social justice by lobbying and campaigning for change.

Today, Action for Children is the leading UK provider of family and community centres, children's services in rural areas, services for disabled children and their families, and services for young people leaving care. We provide services in England, Wales, Scotland and Northern Ireland, and we also support work in Southern Africa, the Caribbean and Central America.

The charity offers a wide range of innovative services, provided to children in care, disabled children and young people.

These services include, adoption and fostering services, family support services, and specialist schools
Services
Find out more about the services we offer by clicking the headings below
Family support


All families need help at critical moments. We support children and families with the most difficult problems and are the largest provider of family support services in the UK. Families under stress are often trapped in a difficult situation - on their own with little money and no confidence. This can put children at risk. Our long-term approach - supporting and challenging families - gives families opportunities to turn things around together.

Support for young people


Action for Children provide targeted support to vulnerable and socially excluded young people right across the UK We take a flexible approach to each young person's individual needs and aim to increase positive outcomes. Our services aim to: > Work with young people to identify and overcome barriers in their lives > Help them plan to get where they want to be > Build self confidence and self-esteem > Help them to make more positive choices

Education, employment and training for young people


With strong aspirations, young people can overcome the most difficult obstacles. At Action for Children, we aim to help young people realise their potential by showing them the opportunities available to them, and by giving them the chance to choose which route in life suits them best. For more details visit the 'our services' section of our website.

Alcohol and substance misuse


Our integrated services offer effective substance misuse advice and support to all children and young people. We do this though our outreach services, drop-in centres and helplines, plus other follow-on support. And by offering advice and information to parents and carers we can ensure they seek specialist help and support. That way, we can tackle drug and alcohol misuse among young people and change lives for the better. For more information visit the 'our services' section of our website.