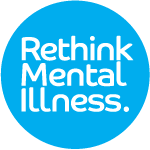 Devon Community Opportunities, Rethink Mental Illness
Rethink Mental Illness is a charity that believes a better life is possible for millions of people affected by mental illness. In 1972 one man bravely spoke about his family's experiences of mental illness in a letter to the Times and in the process brought together hundreds to talk about their experiences of mental illness and support each other. Today we directly support almost 60,000 people every year across England to get through crises, live independently and to realise they are not alone.
Devon Community Opportunities offers low level community support across Devon (excluding North Devon, Torbay, Plymouth). By supporting an individual's recovery - we aim to enable them to develop skills to ensure their wellbeing, maximise independence, and develop strategies to deal with stressful life experiences. People accessing the service are supported to focus on their personal strengths, and identify areas for personal development. Goals are set, which are regularly reviewed to ensure support remains relevant and appropriate to a person. The service is responsive to individual need, with a focus on enabling an individual to manage a situation for themselves, therefore gaining greater independence. Support may be 1:1, or in groups. For more information, please call us-01395 224166.
Services
Find out more about the services we offer by clicking the headings below
Rethink Mental Illness: Advocacy Support


Our advocacy services are designed to support those who are vulnerable or need help to make informed decisions and secure the rights and services to which they are entitled. We have a great deal of experience in developing and delivering quality advocacy services across a variety of settings, both in the community and in secure hospitals and secure units. To find out more please contact: Sarah Brindle, The Wesley Centre, Royce Road, Hulme, Manchester, M15 5BP or Telephone: 0161 226 3366

Mental Health Courses


Rethink Mental Illness is a charity that believes a better life is possible for people affected by mental illness. We have a range of mental health courses which we have delivered to a variety of audiences. Our training team are also able to work with you to design and deliver a bespoke course, ensuring the training meets the specific requirements of your organisation. for more information visit our website, or contact the Mental Health Promotion Team: training@rethink.org

Rethink Mental Illness: Advice Service


The national Rethink Mental Illness Advice Service fills a major gap in the information and help available to people with mental illness and their carers. We also provide 24/7 helplines covering particular areas or for particular groups of service users and carers, some of which are directly linked to crisis accommodation, working in partnership with local Crisis Resolution and Home Treatment Teams. Call 0300 5000 927 Monday to Friday, 10am-2pm